Greetings from the Embassy of the Republic of Azerbaijan in Washington, DC. In this edition of the news digest, you will find stories about celebration of Azerbaijan's Flag Day, the nation's important role in implementation of the New Silk Road project and global energy security as well as about Azerbaijan-US and Azerbaijan-Israel relations. To learn more about the Embassy's activities, please remember to like us on Facebook and follow us on Twitter.
President Ilham Aliyev phones U.S. President-elect Donald Trump
Azernews.az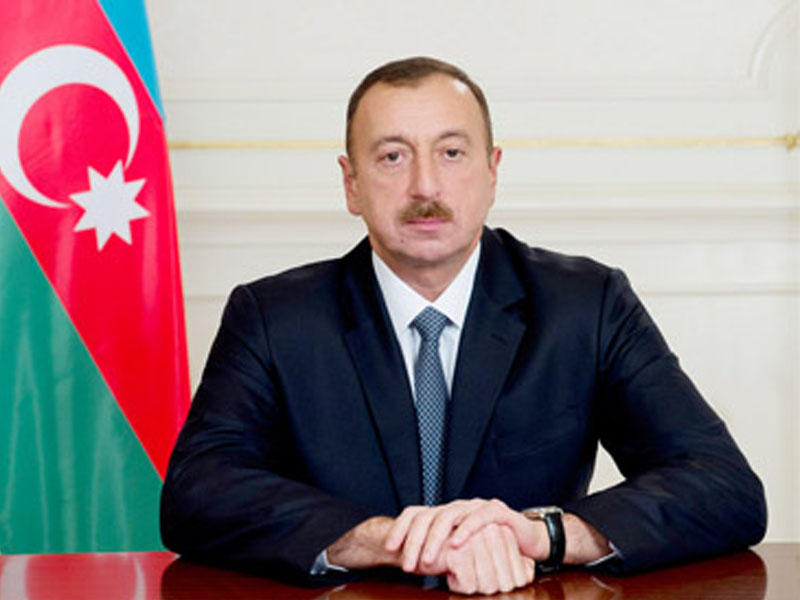 Azerbaijani President Ilham Aliyev made a phone call to President-elect of the USA Donald Trump. The head of state congratulated Donald Trump on his victory in the presidential election, and wished him success in his high state activity. President Ilham Aliyev noted that bilateral relations between the Republic of Azerbaijan and the United States of America are developing successfully on various fronts, including political, economic, security, energy security and other areas, and stressed there is very big potential for strengthening the bilateral relations.
Azerbaijan, US work on counterterrorism, transnational threats
Trend.az
Azerbaijan and the US continue to work together on counterterrorism and transnational threats, US Deputy Assistant Secretary in the Bureau of European and Eurasian Affairs Bridget Brink told reporters in Baku Nov. 22.
Azerbaijan to continue successful co-op with new US administration
Trend.az
President of the Republic of Azerbaijan Ilham Aliyev received US Deputy Assistant Secretary in the Bureau of European and Eurasian Affairs Bridget Brink on Nov. 22. The head of state recalled broad discussions on bilateral relations and regional issues that they held with Bridget Brink in summer of 2016. President Ilham Aliyev expressed hope that successful cooperation between the two countries will be continued with the new administration of the US. Brink highlighted her country's strong support for Azerbaijan, as well as for the entire region. She said the US has carried out consistent policy in this regard for a long time.
Azerbaijan ambassador visits Oklahoma; looks to strengthen partnerships
Oklahoma National Guard
Ambassador of the Republic of Azerbaijan to the United States, Elin Suleymanov made his way through the Oklahoma City metro area, visiting with top Oklahoma leaders and energy research engineers in order to establish relationships and strengthen partnerships that mutually benefit both nations. Ambassador Suleymanov met with Senator James Lankford, Todd Lamb, lieutenant governor for Oklahoma, Maj. Gen. Robbie Asher, adjutant general for Oklahoma, Dr. Carol Jones, Biosystems and Agricultural Engineering professor with Oklahoma State University, professors from the University of Oklahoma's energy department and research engineers with General Electric's (GE) Global Research as part of the State Partnership Program (SPP).
National Flag Day of Azerbaijan marked in Houston
Apa.az
Houston-based Azerbaijani Centre and the Houston-Baku Sister City Association co-organized an official reception at the Houston City Hall marking the National Flag Day of Azerbaijan. US Ambassador to Azerbaijan Robert Cekuta also attended the event. The event brought together representatives of the Houston City Hall, the Congress, the Texas General Assembly, consulate generals of several countries accredited in Houston, as well as representatives of Azerbaijani, Turkish and Jewish communities.
An Inside Look At The New Crossroads Of Eurasia: Azerbaijan's New Port Of Baku
Forbes

Extending out from the west bank of the Caspian Sea, the New Port of Baku at Alyat sits within 20 square kilometers of barren brown desert that's become fertile ground for some very big dreams. Positioned 65 kilometers south of the central core of Azerbaijan's capital city of Baku, the new port is emerging as a full-fledged intermodal transportation hub and free trade zone that's primed to become a major station along the New Silk Road — the nascent grid of enhanced economic corridors spanning the Eurasian landmass, from China to Europe.
Ziyadov: Baku will become a Dubai-like hub in Eurasia
EurActiv.com

Azerbaijan intends to build a major trading hub close to its capital as a tax-free zone, with the expectation that other countries in the region will replicate the example and give a boost to the entire Eurasia region, Taleh Ziyadov, director-general of the new Baku International Sea Trade Port, told EurActiv.com in an exclusive interview.
Review: 'Ali and Nino,' a Love Story Set Against Majestic Backdrops
The New York Times
"Ali and Nino" aspires to epicness and comes pretty close to getting there. Based on a 1937 novel, this romance centers on two lovers, Ali (Adam Bakri), a Muslim, and Nino (María Valverde), a Christian, in Azerbaijan and Tbilisi, Georgia, in the 1910s.
MAERES Students Visit Embassy of Azerbaijan
Georgetown University
MAERES students recently visited the Embassy of Azerbaijan as part of the course "Caspian Sea Energy Resources: Theory and Practice" led by Prof. Brenda Shaffer. The students met with the Ambassador of Azerbaijan to the United States, H.E. Elin Suleymanov.
Azerbaijan eyes to increase energy efficiency by 2020
Trend.az
Azerbaijan intends to increase energy efficiency by 20 percent till 2020, Director of the Institute for Scientific Research on Economic Reforms (ISRER) under the Ministry of Economy of the country Vilayat Veliyev said. "In particular, it is planned to reduce the volumes of gas emissions from boilers by 20 percent, bring the share of renewable energy in total production to 20 percent and increase the energy efficiency by 20 percent as part of the concept," said Veliyev.
White House: SGC provides new hope for stability
Trend.az
The Southern Gas Corridor provides new hope and opportunity for stability and prosperity, said the statement released on the website of the White House. "As Greece moves forward on the path to economic recovery, the United States will advocate policies to promote and foster economic growth and further opportunities for US investment," said the statement. To further these goals, the United States has pledged its support for energy diversification in Greece through the Trans-Adriatic Pipeline and Greece-Bulgaria Interconnector according to the White House.
Azerbaijan, Italy commitments on TAP to expand bilateral co-op
Trend.az
The commitments undertaken by Azerbaijan and Italy on implementation of the Trans-Adriatic Pipeline (TAP) will expand bilateral cooperation, said Italian Foreign Minister Paolo Gentiloni. "Our cooperation covers many areas, such as trade, agrarian sector, energy," Gentiloni said in a briefing with Azerbaijan's Foreign Minister Elmar Mammadyarov. "Italy can also contribute to development of cooperation between Azerbaijan and the EU."
Israel keen to co-op with Azerbaijan in energy, agrarian sectors
Trend.az
Israel is interested in cooperation with Azerbaijan in agricultural, energy, pharmaceutical and other spheres, said Israeli Ambassador to Azerbaijan Dan Stav in his interview with Trend.
Generations of Survivors: From Auschwitz to Khojaly
The Algemeiner
Rabbi Israel Barouk writes: "Something that has struck me about studying and living in Azerbaijan over the past few years is that it is the culture, and the people, that make it so special. Through the best and worst of times, Azerbaijan has stood on the side of justice — against Nazis and extremism, and in favor of celebrating many cultures and faiths in one shared space. The rest of the world has a lot to learn from their example. These characteristics stand out especially in the survivors of the Khojaly Massacre, most notably those who endured the nightmare as children, and are today still relatively young".